About Barbara Walsh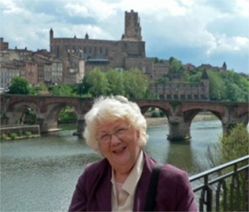 When Irish author and historian Barbara Walsh gained a doctorate in history from Lancaster University in 1999, she had already enjoyed a long and productive career which had encompassed a number of creative outlets as a writer, artist, broadcaster and multi-media producer. This activity included features, short stories, plays and commercial work for radio and TV.








Published work includes:
BOOKS:
Irish Servicewomen in the Great War: From Western Front to Roaring Twenties (Pen & Sword Books, Yorkshire and Philadelphia, 2020)
When the call went out in 1917 for volunteers willing to serve both at home and on the Western Front in a newly founded Women's Army Auxiliary Corps, young women from every province of Ireland responded just as eagerly as those from homes in Scotland, England and Wales.
Forgotten Aviator Hubert Latham: a high-flying gentleman (The History Press, UK, 2007)
The authoritative biography of pioneer aviator Hubert Latham based on his own private papers and other primary sources. Now up-dated by two revised and improved editions containing many additional and unique illustrations.
The U.S.A. edition Hubert Latham 1883-1912: Forgotten Aviator: A Man of his Time (Odyssey, Dublin, 2013) And
French language edition (Translated by Marie Léoutre) Hubert Latham: Un Pilote Méconnu 1883-1912 (Les Editions de l'officine, Paris, 2013)
Read more
When the Shopping was Good: Woolworths and the Irish Main Street
(Irish Academic Press, Dublin & Portland, Or., 2011)
The hugely popular nostalgic story of Ireland's most iconic shopping experience.
Read more
Roman Catholic Nuns in England and Wales 1883-1937 (Irish Academic Press, Dublin & Portland, Or., 2002)
Based on the author's Doctoral thesis in 1999, this work presented a ground-breaking definitive text for students of the history of women religious.
Read more
Sisters (Blackstaff Press, Belfast 1980)
A co-authored a collection of short stories. The author's contributions were written under the name of Barbara Haycock Walsh.
Read more
Journal Articles
'Lifting the Veil on Entrepreneurial Irishwomen : Running Convents in Nineteenth-Century England and Wales',
History Ireland, Volume 11, No 4, Winter, 2003, pp.23-28

'Revolving Retailers: when Woolies left Ireland, 1984'
History Ireland, Volume 19 no.5, September/October 2011, pp.44-45

'Dublin's Woolworth Stores 1914-1984'
Dublin Historical Record, Vol.64, 2011, pp.112-28

'Cruelty and Compassion in the Convents : Were Irishwomen key to the rise of religious life in the nineteenth century?'

Maynooth University History Forum, 2nd Annual Conference Papers, 2013.

'Chain Store Retailing in Ireland : A case study of F.W.Woolworth & Co.Ltd. 1914- 2008',
Journal of Historical Research in Marketing, Volume 6 Number 1, 2014, pp. 98-115
(Bingley, UK Emerald Group Publishing Ltd.)
ISBN 978-1-78350-6231 and ISSN 1755-750X

'Lifting the Veil on the Business of Running Convents 1850-1917: The Economic, Political and Social Background',
Journal of the Essex Recusant Society, No.7, 2015, pp.7-18

'Scottish Girls who served behind the lines in World War One'
The Scottish Genealogist : Quarterly Journal of the Scottish Genealogy Society
Vol. LXIII No.1, March 2016, pp.18- 23

'Armistice Days in Dublin as viewed by ex-members of the Irish Command of WAAC/QMAAC 1917-1919'
History Ireland, Volume 26, No 6, November/December 2018, pp.36-39

'Two former WAAC Signallers', in 100 Wonderful Women, edited by Tanya-Jaye Park,
Women's Royal Army Corps Association, Winchester, UK, 2019, pp.14-20

'The Key Role Played by WAAC British Post Office Female Staff in Army Signal Units on the Western Front, 1917–1920; Journal of Information & Culture, Volume 55, Number 1, 2020, pp. 75-97, University of Texas Press, Austin,Texas, USA.


Contact: barbaraw@barbarawalsh.com
Barbara Walsh has previously written and broadcast under the names of:
Baibre Breathnach - Barbara M. Walsh - B. M. Walsh - Barbara Haycock Walsh