Sisters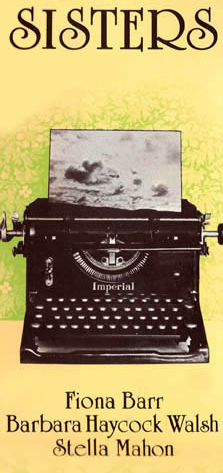 Sisters (Blackstaff Press, 1980) was a collection of short stories by three women writers which reflected the middle decades of 20th century Ireland, a time now seen as a bleak and depressing era. This work presented very different stories from very different writers, but with one thing in common - the originality and power of the writing.

The stories describe the lives of ordinary people on both sides of the border: Barricades are hurriedly built at the end of a Belfast Street, to the bemusement of its respectable residents; two schoolboys egg each other on to dangerous mischief; a battered wife takes her children on a short excursion to freedom and peace.
'...a significant event in the history of Irish fiction. Barbara Haycock Walsh explores the intensity of family relationships within the petit bourgeois of Catholic Ireland.'
Irish Press, 20 November, 1980.
'Barbara is a writer well in control of the mechanics of short-story writing, incorporating flashbacks with ease into lightly monitored time schemes... this is particularly true of "A Flash in the Dark". She handles carefully the varying tones necessary to create the differing atmosphere of her stories, and treats with masterly understatement the vernacular necessary to the last of her stories,"Tuesday Night".'
Ulster Tatler, 19 March 1981.