When the Shopping Was Good
Woolworths and the Irish Main Street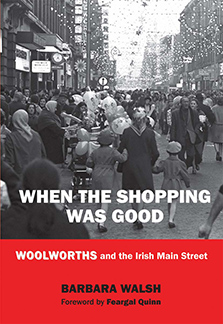 For generations of Irish shoppers a visit to their nearest Woolworth store was regarded as an essential part of a day's outing. Barbara Walsh presents a lively and entertaining account of this distinctive chain-store's retailing style in Ireland and its impact on the Irish Main Street.
Richly illustrated with over 70 images from every corner of Ireland, north and south, this study will intrigue and entertain readers of all ages.
Based on unique primary sources, each chapter brings readers both nostalgia and drama. The narrative tells of changed shopping habits, lifestyles and retail working conditions – but also carries tales of gunmen and boycotts, trade wars and lock-outs, corporate collapse and recovery strategies for almost one hundred years of trading in Ireland: 1914 – 2008.
Offering building blocks for more specialist studies, this book presents a comprehensive account of the impact made by one of Ireland's most iconic shopping experiences.
The story of Woolworth's unforgettable ice cream, the pick 'n mix sweets and music departments that became a legend, Hollywood-style cosmetics, Christmas toys and decorations, haberdashery, tools and hardware will stir memories for many people.
Available from Irish Academic Press all good bookshops and on-line booksellers in the UK, Ireland and USA.
'A joy to read ... she entertains and whets the appetite for more,'
Feargal Quinn.
'A staggering diversity of research... to interest scholars of international business...
Kevin D. Tennent, University of York, Business History, (March 2013).
'Extensive use of first-hand accounts bring depth and colour'
Hannah Scott, The Sunday Times.
'Walsh has produced an excellent history of Woolworths, which is a thoroughly enjoyable read.... this book is a considerable achievement...'
Professor Peter Scott, Henley Business School, University of Reading, UK. Economic History Review, 65, 2 April (2012).
'In this well researched study, Dr. Walsh provides a valuable insight into the evolution of Irish retail business.'
J. Anthony Gaughan, Irish Catholic.
'An elegy of sorts for a lost world of Irish shopping and, indeed, a lost lexicon of words such as haberdashery and draper'
Eve Patten, Irish Times.
'Notable for its profusion of nostalgic black-and-white photos.'
Books Ireland.
'Full of enchanting and intriguing detail about Woolworths, their staff, and about Irish commercial life...thoroughly researched and beautifully written.'
Sean Bagnal, Amazon.com.
'Lively and fascinating'
Tom Kenny, Galway Advertiser.