Irish Servicewomen in the Great War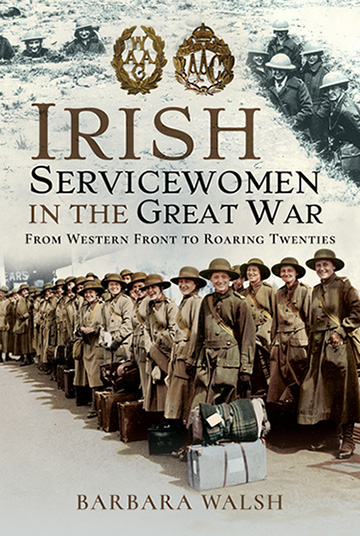 Another great ground-breaking study meticulously researched to reveal a long-neglected twentieth-century story.
When the call went out in 1917 for volunteers willing to serve both at home and on the Western Front in a newly founded Women's Army Auxiliary Corps, young women from every province of Ireland responded just as eagerly as those from homes in Scotland, England and Wales.

Drawn from every class, creed, family background and ability, the girls who came forward to join the WAAC from Ireland had often suffered equal heartbreak over the loss of husbands, brothers and friends killed or wounded in France. Yet, their willingness to help bring about an end to the slaughter was a narrative that became ignored in popularised versions of that politically volatile era and it is hoped that this study will now go some way to restore a rightful recognition of their army service days within the historiography of twentieth-century Irishwomen.

Their work as office workers, cooks and caterers, motor transport drivers, cryptanalysis and hi-tech telecommunication personnel are examined. Close investigation is made of the Irishwomen seconded to the Royal Engineers from branches of the General Post Office in Ireland and elsewhere. Attached to Signal units, they became key players in ensuring the Western Front's crucial, high-security army Lines of Communication remained viable.

The story of these Irish servicewomen in the Great War winds up within the interwar period that followed. Had often dangerous war experiences affected these women's postwar life-changing decisions and aspirations? Compare/contrast experiences in the postwar era are cited. There were new careers, migration, home and family life. How many had foreseen that twenty years hence, Irish women 'veterans' of the Great War would once more rally at a time of fresh crisis?

"This is an absolute gem of a book...it's a very human story, very well-written, and one that deserves the widest possible audience."
Steve Earles, Hellbound

"What a great read it is....Each chapter is accompanied by notes and the research resources have been well documented and cited.
"
Old Soldier Sahib, Amazon

"A wonderful book full of intrigue and sadness of what took place... an ideal book to catch up on what actually took place ...can highly recommend..."
Jeanie Mckinlay, NetGalley

"This important and seminal study is to be warmly welcomed."
J. Anthony Gaughan, The Irish Catholic

"Well researched and accompanied by archival images and actual quotations from many people of the time period."
Books Ireland, April 2020

"A book that deserves to be widely read….most highly recommended."
http://reviews.firetrench.com

"A fantastic book on a lesser known aspect of World War One..."
Barry Shepherd, History Now, NVTV, Belfast

CLICK HERE TO ORDER THIS BOOK.